We have a special treat today!!
You can tell he has a GIANT GRIN going on back there!!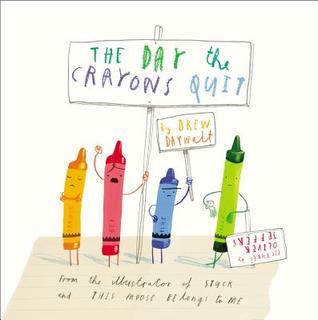 Q:
I asked Kaleb what color crayon he would like to be and what he would call this color.
A:

Kaleb decided he wanted to be ALL THE COLORS!! He said, "How can I pick just one? They all are so great for everything!" He said he would call this the

"EVERYTHING"

crayon.
MOME SAYS
"So, this by far was my favorite children's book we have read in a long time. Not only did it give Kaleb the obvious practice with his coloring, but it also let him see how to treat someone you consider a friend. The illustrations were absolutely brilliant since they looked like children's drawings. That really appealed to him."
I also asked Mome what color she would like to be...
"After much deliberation and a few debates on what color mome gets to be, I chose a simple

pink

crayon for myself. Its girly and demure just like me; yeah right."

Debut author Drew Daywalt and
New York Times
bestseller Oliver Jeffers create a colorful solution in this playful, imaginative story that will have children laughing and playing with their crayons in a whole new way.
Here are some fun crayon activities.
Make this with the Sugar Aunts,
HERE
.
Make crayon resist art with the Happy Hooligans,
HERE
.
Find it on No time for Flashcards,
HERE
.
Solar crayon candles with And Chaos Ensued,
HERE
.
Waxpaper and crayon fall leaves at V and Co.,
HERE
.
*wuzZies*